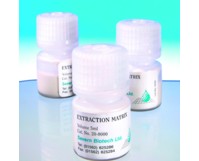 Description:
Extraction Matrix is used in conjunction with L2 and L6 buffers for the Capture and elution of total DNA & RNA from cellular material. ( The Extraction Matrix is supplied Sterile) The Extraction Matrix is supplied in 5ml suspension and is enough to perform 200 extraction reactions using 50microlitres per extraction.
Total genomic material is eluted from the matrix with either water ( sterile) or Elution Buffer (optimal). and can be used with a variety of cell types including Plant, Virus, Bacteria and Animal.
The Matrix is robust enough to be used with organic material where clean up procedures are not normally used including fecal matter.
Contact Severn Biotech Ltd sales office for Extraction Protocols.