Ethidium Bromide Solution in a Dropper Bottle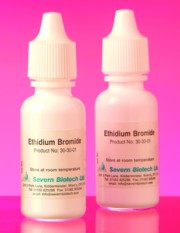 Description:
The dropper bottle format is very popular with teaching departments; this form of packaging can accomodate both single use applications for use in kits or supplied in higher volumes and concentrations to suit end user requirements. Our standard off the shelf concentration is again 10mg/ml with a volume of 1.0ml. (1.0ml & 10ml volume at a concentration of 10mg/ml). 
Other concentrations are also available (see dropdown box below).
CAS 1239-45-8