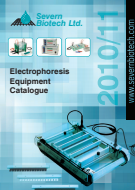 Description:
His tags, consisting of five to ten Histidine residues have been used for several years for purification of recombinant proteins by immobilised metal-ion affinity chromatography (IMAC).
The use of the His tag has several advantages: there is minimum addition of extra amino acids to the recombinant protein and the small Histidine tail is weakly immunogenic and does not interfere with protein folding.
His tagged proteins have a high affinity for metal ions.  Nickel, Copper and Cobalt all attach His tagged proteins with varying degrees of affinity.
Affinity based capture methods have become routine techniques for isolation and purification of recombinant proteins and the IMAC methods offer a quick one step purification method. The use of Nickel and Metal Chelate Agarose beads is specific in its affinity for clustered Histidine tagged proteins.  The purified protein is bound to the gel in a neutral loading buffer and eluted using 250ml imidazole elution buffer.
The gel purification protocol enables the binding and elution of His tagged proteins in an efficient method to aid identification by western blotting, LC-MS/Maldi-Tof or PAGE.
The Ni, Cu and Co agarose beads can be designed to suit the application as the three different forms work similarly, offering a degree of selectivity in the choice of affinity material to be used.
PLEASE NOTE THIS IS NOT A PRODUCT PLEASE DO NOT ADD IT TO YOUR CART – THANK YOU