* Phosphate Buffered Saline Information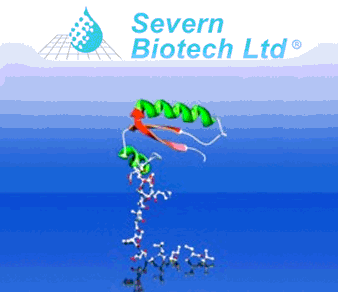 Description:
Phosphate buffered saline or PBS is that ubiquitous buffer essential to life science laboratories.  Its use is widespread both in immunoassays, cell culture, microbiology and molecular biology laboratory techniques.
Manufacture
At Severn Biotech we have been manufacturing PBS solutions for many years and supply the product in 1x, 10x or 20x formulation in 1000ml polypropylene bottles.
The buffer solution has a final pH 7.4 at 25 degrees C. (This is the final pH of the product diluted to working strength, which accounts for the different starting pH of the concentrate).
Concentrates should be formulated or re-constituted using sterile de-ionised distilled water. (18 Ohms resistivity product 20-9101-10.
Quality
PBS is manufactured to an exact formulation criteria and is both 0.2 micron filtered, then autoclaved to 121° C to ensure the products sterility and shelf life.
Custom Service
Alternative pH values are available on request in association with different formulations as part of our custom service.  Please contact us for more information.
PLEASE NOTE THIS IS NOT A PRODUCT PLEASE DO NOT ADD IT TO YOUR CART – THANK YOU