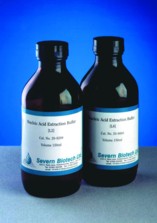 Description:
L2 Buffer is used in the sample preparation and extraction of DNA & RNA from cellular material. Can be used with Viral , Bacterial, Animal and Plant cells. The solution is used in slightly higher volumes than L6 buffer and is supplied in 150ml bottle enough to do approximately 75-150 extractions.
This product is used in conjunction with L6 buffer and extraction matrix both supplied separately.
For extraction protocols and further details please contact Severn Biotech Ltd.'s sales office.